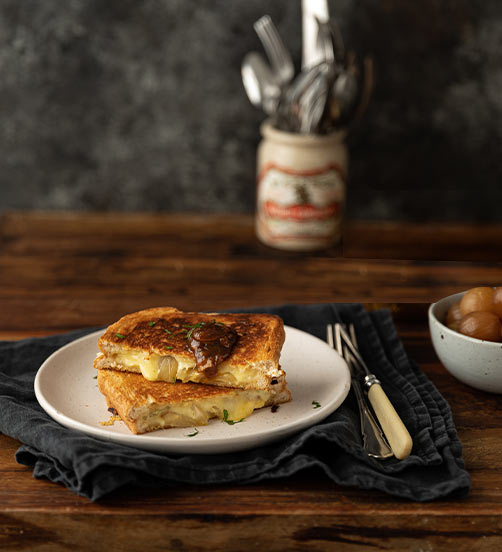 We put the challenge out there to find NZ's best cheese toastie. After rigorous taste testing, we settled on a classic. Rosie's "In a Pickle". Take some pickled onions and Mainland Camembert, and you can't go past this kiwi classic. Enjoy with Jenny's Kitchen Tamarind Chutney.
Ingredients
2 slices ploughmans rustic white bread
Mainland buttersoft spread
1/2 a small Mainland Camembert wheel
1/2 cup Mainland mozarella
1/4 cup grated gouda
3 pickled onions
Jennys kitchen tamarind chutney 
Method
Generously butter 2 slices of the bread. Place one slice of bread butterside down on a cold sandwich press. 
Place the camembert thinly sliced on the bread and put the chopped pickled onions on top of the camembert. 
Add the grated gouda and mozzarella. 
Put the other piece of buttered bread butter-side up on top.
Close the sandwich press and set to low heat for 1-2 minutes, then toast at high heat for 1 minute after that.
Slice hot and serve with a good dollop of tamarind chutney and a glass of your favourite beer.
YOU MIGHT LIKE THESE RECIPES