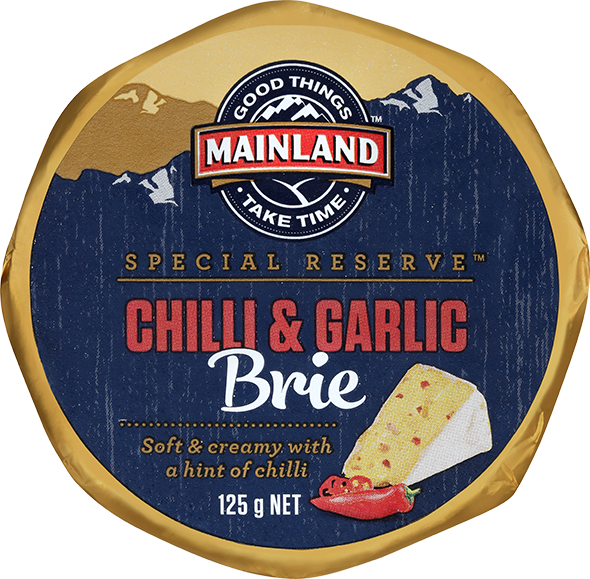 Soft and creamy
Hint of chilli & garlic
Luxurious on the palette
Matured to perfection
Flavour Strength
STRENGTH 1 - 2 - 3 - 4 - 5 INDICATOR
Share This
Nutritional Information
PER 100G
Energy
1480kJ
Protein
19.8g
Fat, Total
30.1g
-Saturated
20.9g
Carbohydrate
1.5g
-Sugars
Less than 1g
Sodium
781mg
 
 
Ingredients
Pasteurised Milk
Salt
Chilli Flakes (1%)
Garlic (0.5%)
Cultures (Milk)
Enzyme (Non-Animal Rennet)
Mainland Chilli & Garlic Brie
Our Mainland Special Reserve Chilli & Garlic Brie is the perfect combination. It takes the smooth creaminess of Mainland Special Reserve Creamy Brie and combines it with the heat of chilli and the delicious aroma of garlic.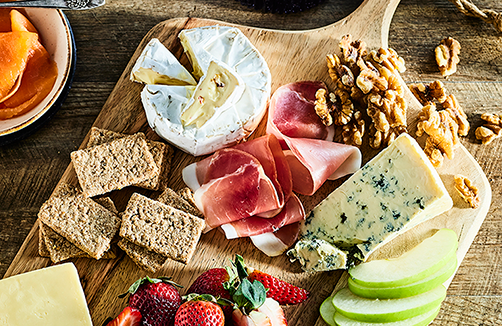 Making the Most of Mainland Chilli & Garlic Brie
Mainland Chilli & Garlic Brie is a deliciously creamy brie that combines the heat of chilli with the fresh aromas of garlic. It's smooth, creamy and is best savoured as part of your favourite cheese board. It's also pleasant when baked in the oven and topped with fresh thyme or parsley with a drizzle of honey.  Available in a 125g wheel.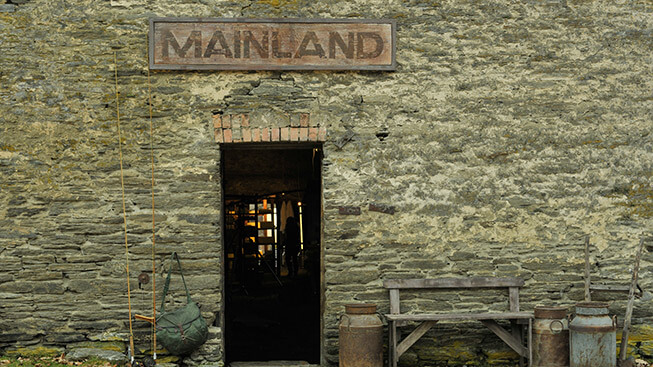 How Chilli & Garlic Brie is crafted
Selected starter cultures are pre-ripened with pasteurised farm fresh milk. Extra cream is added to the curds, which are cut, warmed and stirred slowly, while stirring the chilli and garlic is added. After being hooped and drained and lightly salted, white fluffy rinds grow as the cheese matures. They are hand-turned during this process.
Explore something that's...