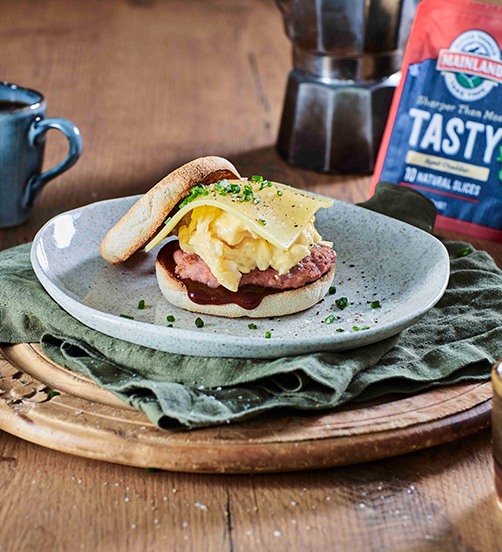 What is a Breakfast Sando? Well, it's a tasty breakfast sandwich made with English muffins, a sausage pattie, a dollop of scrambled eggs and crowned with our Tasty Aged Cheddar Slices. Trust us, this is a breakfast well worth getting out of bed for. 
Ingredients
4 English split muffins, toasted
4 pork breakfast sausages
6 free-range eggs
4 Mainland Aged Tasty Cheddar Slices
BBQ sauce
chives, finely chopped (for garnish) 
Method
Remove the pork sausages from their casings and shape them into 4 small patties, the same size as the muffins. 
Preheat a large frypan and cook the sausage patties for 3-4 mins each side until cooked all the way through. Place in a warm oven while you scramble the eggs. 
Crack the eggs into a large bowl, season with salt and pepper and whisk until combined. 
Preheat a non-stick pan and cook the egg mixture until scrambled to your liking. 
To assemble each Sando, take a toasted muffin half and dollop on a good tablespoon of BBQ sauce. Add a sausage pattie and top with some hot scrambled egg, then a Mainland Tasty Cheddar Slice. Garnish with a sprinkle of chives and top with the other muffin half. 
Repeat with the remaining ingredients and you're ready to serve up an awesome way to start the day.
YOU MIGHT LIKE THESE RECIPES