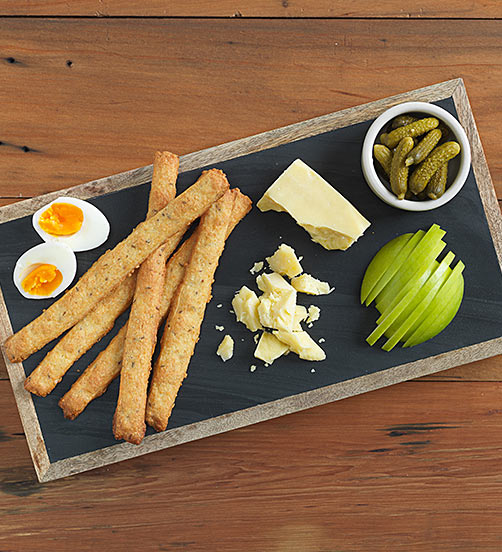 Take the classic Ploughman's platter to another level with this tasty cheesy twist. 
There's nothing quite like tucking into a Ploughman's platter stacked with pickles, breads and your favourite Mainland cheeses. Add these moreish Cheese and Fennel straws to the plate and we think you'll you be sharing it in no time at all.
Ingredients
1 tbsp fennel seeds, lightly toasted
100g unsalted butter, roughly chopped
100g plain flour
100g Mainland Tasty Light cheese, grated
Method
Lightly crush the toasted fennel seeds using a mortar and pestle or a sharp knife. Set aside.
Blend the butter and flour together in a food processor until the mixture resembles fine breadcrumbs. Add the cheese and fennel seeds and process quickly until the mixture forms a ball. Wrap the mixture in greaseproof paper and chill for about 1 hour.
Pre-heat the oven to 200C. Roll the pastry out to 5mm thick and cut into 1cm wide straws. Place the straws well apart on a baking tray lined with baking paper. Bake in the preheated oven for 10 – 15 minutes or until golden brown. Cool briefly on the tray then transfer to a wire rack to cool completely. Store in an airtight container for 4 – 5 days.
Serve as part of a ploughman's platter with boiled egg, apple, relish and extra Mainland Tasty Light cheese.
YOU MIGHT ALSO LIKE THESE RECIPES