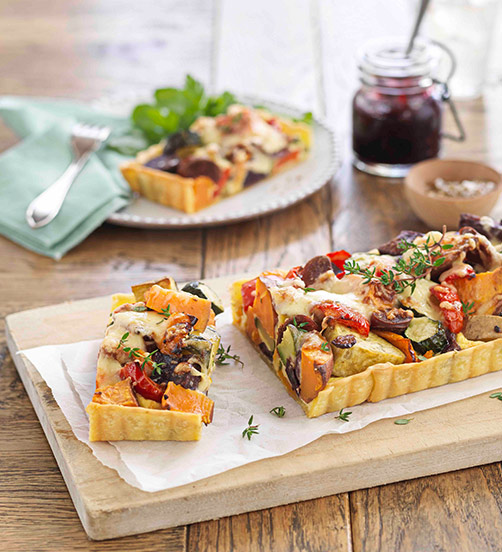 Packed with vegetables and Tasty Light, this colourful tart makes for a flavoursome lunch or dinner.
Ingredients
1/4 pumpkin, peeled and diced
1/2 an eggplant, diced 
2 capsicums, diced
1 zucchini, diced
1 orange or purple kumara, diced
1 red onion, peeled and diced
2 tbsp olive oil
1 clove garlic, chopped 
1 tbsp fresh thyme leaves
Salt and freshly ground black pepper, to taste
1 cup Tasty Light, grated
3 eggs
3/4 cup Anchor Fresh Cream
1-2 sheets ready rolled savoury short pastry
Method
Preheat oven to 180°C.
Combine all vegetables with oil, garlic, thyme and seasoning and mix well. Arrange vegetables in a single layer on a baking tray lined with non-stick paper, and roast for 20-30 minutes or until tender and lightly coloured.
Meanwhile, line a medium tart tin with the pastry sheets, trimming to fit the sides neatly. Chill until ready to use.
Whisk eggs with cream in a small bowl and stir in the grated Tasty Light Cheese.
Arrange the roasted vegetables in the pastry-lined tin, then pour the egg and cheese mixture over and around the vegetables.
Bake for 25-30 minutes or until the centre is set and the pastry and vegetables golden.
Serve with a fresh herb garnish and salad on the side.
YOU MIGHT LIKE THESE RECIPES