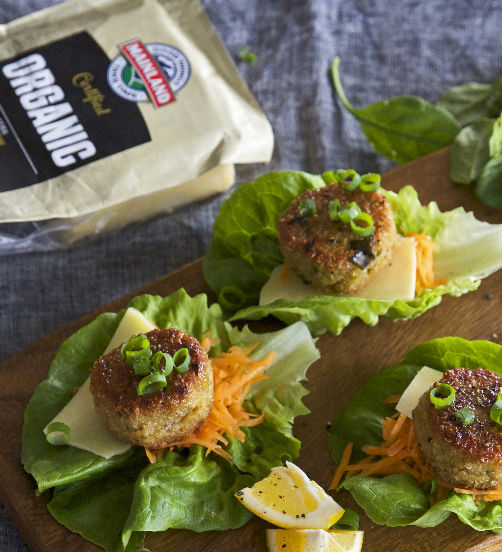 If you've never experimented with quinoa before, this is a great place to start. These tasty patties from Kelly Gibney work wonderfully as a burger alternative, wrapped in crisp lettuce. Featuring Mainland Organic Cheddar these babies are also delicious on top of salads or alongside steamed vegetables. 
Ingredients
1 cup quinoa
2 cups vegetable or chicken stock
3 garlic cloves - finely diced
1 1/2 teaspoons ground cumin
2 cups grated Mainland Organic Cheddar
2 spring onions - green parts finely sliced
Handful parsley - roughly chopped
1 free range egg - lightly beaten
Sea salt and cracked black pepper
Oil for sautéing
Method
Rinse the quinoa very well using a fine sieve. Place in a saucepan with the stock and bring to a boil.
Reduce heat to a simmer and cook with a lid slightly ajar for 15 - 18 minutes until tender and the liquid has been absorbed. Place the lid on snugly and leave for five minutes.
Stir through the garlic, cumin, grated cheddar and spring onion. Leave to cool for 15 minutes before adding the parsley, egg and a generous seasoning of sea salt and cracked black pepper.
Form balls of mixture (about the size of a ping pong ball) into patties. Place in the fridge for 30 - 60 minutes to firm.
Heat a large spoonful of oil in a sauté pan over a medium heat.
Cook the patties in batches until golden brown on both sides. Keep warm in the oven until ready to serve.
YOU MIGHT LIKE THESE RECIPES