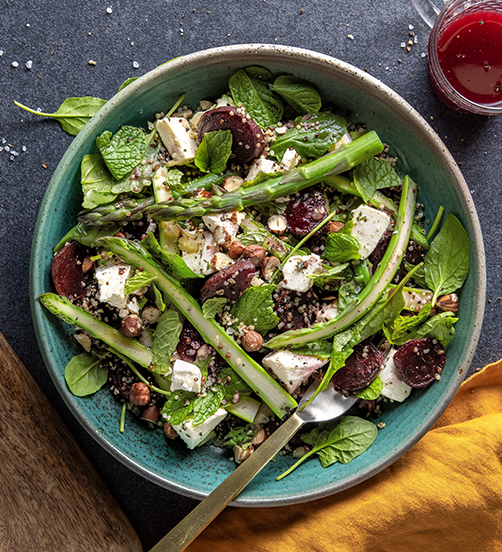 This salad is a pinch to make. Fresh asparagus brings that extra bit of flavour to the perfect summer salad.
Ingredients
1 bunch asparagus
1 packet pre-cooked baby beetroots
1 Countdown Salad Bag
50g cooked multicolour quinoa
1 pack Mainland Creamy Feta
50g hazelnuts roasted and roughly chopped (Optional)
1 packet fresh mint leaves (Optional)
Method
Boil asparagus for 1 minute, cool down in cold water and slice lengthways.
Slice beetroot into 2 inch rings.
Place two thirds of salad on a large plate. Add cooked quinoa.
Add beetroot, sliced asparagus and Mainland Creamy Feta.
Sprinkle hazelnuts over the salad and add mint (if using).
Drizzle with a vinaigrette of your choice and mix through.
YOU MIGHT LIKE THESE RECIPES