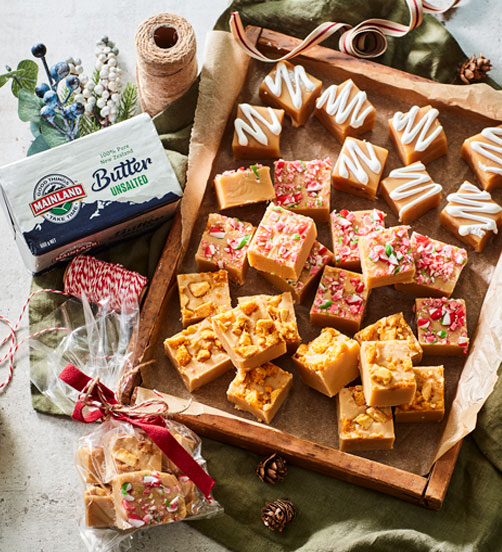 Prep Time
15 mins + 3 hours chill
Nothing calls for mouth-watering buttery fudge quite like Christmas, especially when its flavoured with gingerbread or topped with crushed candy canes and honeycomb toffee. Sounds delicious to us -  you just need to decide whether to keep it or treat it
Ingredients
Fudge
130 grams Mainland Unsalted Butter, diced
200 grams soft brown sugar
400 gram can condensed milk
115 grams white chocolate, chopped
4 candy canes, crushed
Toppings
Crushed Candy Canes
Crushed honeycomb toffee
Gingerbread topping
2 tsp Ground Ginger
1 tsp Ground Cinnamon
1/2 tsp Ground Nutmeg
Icing sugar
Method
Line the baking pan with greaseproof paper.
Place the butter, sugar and condensed milk in a saucepan. Bring to a simmer and stir until hot and well combined. Remove from the heat, add the white chocolate and mix until the white chocolate has melted and is fully combined. If creating the gingerbread fudge, add the spices here. 
Pour the mixture evenly into the lined baking pan. Sprinkle your chosen topping over the top then place in the fridge for at least 3-4 hours to set, or overnight.
Remove from the fridge and cut into small cubes before serving.
YOU MIGHT LIKE THESE RECIPES