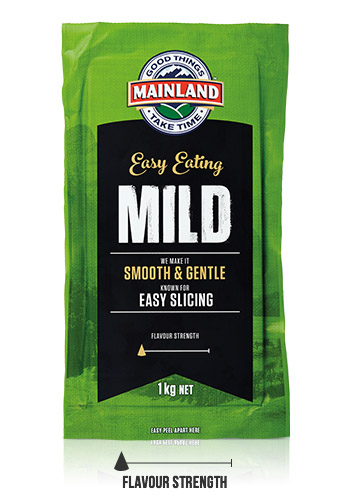 Sizes: 250g, 500g, 700g, 1kg
Not to be underestimated, our Mild Cheese blocks are fresh, nutty and have a slightly savoury aroma perfect for so many of our favourite recipes. Its soft texture makes it easy for slicing to complement any sandwich filled to the brim with goodies. 
Tasting notes
Mild Cheddar is a young cheese with a smooth taste, and creamy mouth feel and texture.
Nutrition Information
PER 100G
Energy
1750kJ
Protein
23.3g
Fat, Total
36.2g
-Saturated
21.7g
Carbohydrate
Less than 1g
-Sugars
Less than 1g
Sodium
716g
Calcium
740g
Ingredients
Milk
Salt
Cultures
Enzyme (Non-Animal Rennet)
Pairings
Apples, pears, quince paste, figs
Raw honey
Caramelised onion
Cured meat
Wine: Port, mascado, pinot gris, sparkling pinot
Beer: Stout, pale ale, India pale ale
Cider: Apple, pear or plum