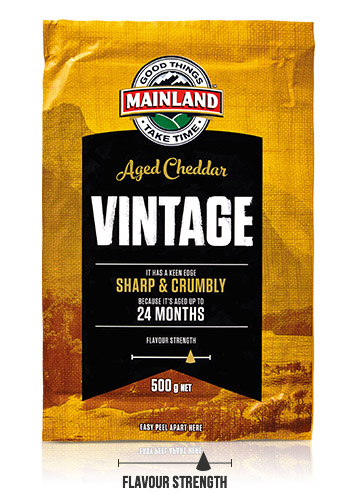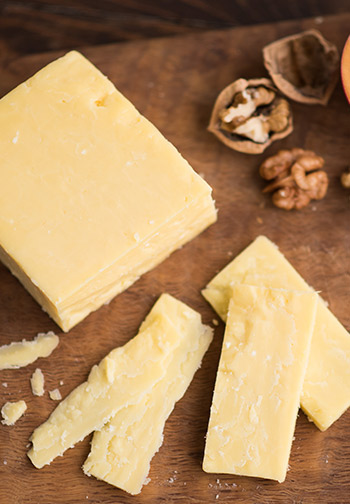 Sizes: 250g, 500g
This no nonsense cheese is one of our most mature, having aged for up to 24 months. The strong and sharp flavours of Vintage make it perfect for bold recipes. The firm texture makes it easy for cutting and preparing. 
Discover more about Mainland Vintage our Cheese of the Month
Tasting notes
Vintage Cheddar has acidic and savoury notes, and a flaky crumbly texture.
Nutrition Information
Per 100g
Energy
1800kJ
Protein
23.3g
Fat, total
37.4g
Fat, saturated
22.5g
Carbohydrate
Less than1g
Sugars
Less than 1g
Sodium
696mg
Calcium
760mg
Ingredients
Milk
Salt
Cultures
Enzyme (Animal Rennet)
pairings
Smoked hams
Rocket
Watermelon
Crudités
Apples
Nuts
Chutney
Dried fruit
Wine: Mascado, pinot gris, sparkling pinot
Beer: Stout, pale ale, India pale ale
Cider: Apple, pear, plum