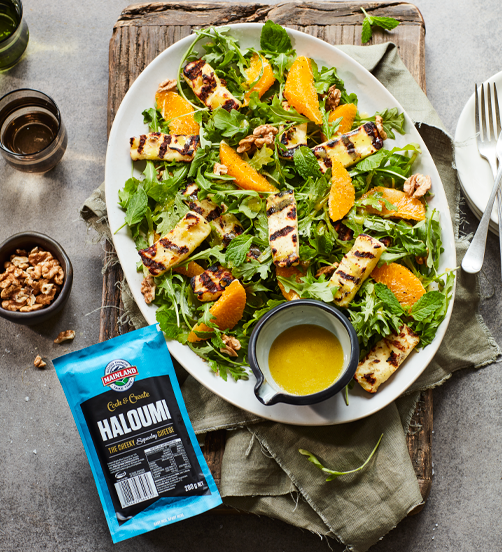 Summer salads are a thing of beauty and this one is no exception. Grilled Mainland Haloumi cheese is paired with sweet orange, crunchy walnuts and fresh mint to make a salad that's bursting with flavour and perfect for summer entertaining. 
Ingredients
2 x 250 gram packs Mainland Haloumi cheese, drained
1 teaspoon Dijon mustard
3 teaspoons white wine vinegar
5 tablespoons olive oil
200 grams rocket and mesclun salad
50 grams walnut pieces, toasted
3 medium oranges, peeled and segmented
12 mint leaves
Method
Heat a large griddle pan or your barbecue to a high heat.
Slice the Mainland Haloumi into 3cm slices, then place in the pan or on the barbecue to cook for 2-3 minutes, until you have nice char marks on each side. Remove and place to one side.
Whisk the Dijon mustard and white wine vinegar in a bowl. Slowly drizzle in the olive oil while whisking until it is well combined.
Place the salad leaves on a large serving plate or in a bowl, spoon over two thirds of the dressing and toss to combine. Add the walnuts, orange segments and Mainland Haloumi. Season with salt and pepper, then drizzle with the remaining dressing and garnish with the mint leaves. 
YOU MIGHT LIKE THESE RECIPES