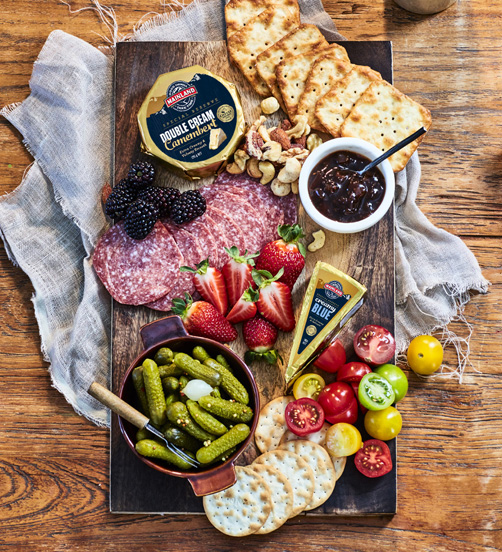 The starting point for any cheeseboard must be our Mainland Special Reserve cheeses. Then it comes down to carefully crafted pairings. We've taken six of our favourite Mainland cheeses and lined them up with an array of delicious pairings. We've done all the hard work so all you have to do is assemble and enjoy. 
Ingredients
Danish Salami
Herby Green Olives
Cherry Tomatoes (the more colourful the better)
Chutney or relish
Walnuts
Honey (runny or comb) 
Cornichons (or gherkins)
Whole almonds, skin on
Champagne ham
Juicy red grapes
Blueberries
Slices of green apple
Method
Whether creating a large cheeseboard to feed the family, or a small one for a quiet night in, we've got the perfect Mainland Special Reserve Cheeseboard pairings. Pick a few of your favourite cheeses alongside the recommended pairing, and get started on creating the perfect cheeseboard. And remember to always scatter your Mainland cheese board with a fantastic selection of crackers to compliment your cheese pairings.