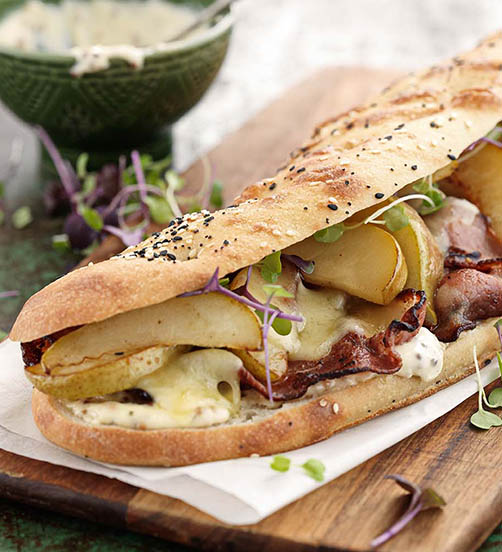 You can never have too many sandwich ideas up your sleeve – this one combines buttery, sweet Mainland Special Reserve Harvati with pears and bacon for an easy brunch that's just slightly sophisticated.
Ingredients
1 pide sandwich loaf or similar
¼ cup mayonnaise
1 tbsp honey mustard
8 rashers streaky bacon, fried till crisp
2 pears, cored and sliced
100g Mainland Special Reserve Havarti cheese, sliced
A handful of microgreens, to serve
Method
Preheat oven to 180℃.
Cut pide loaf in half lengthwise and place the base on an oven tray lined with baking paper.
Combine mayonnaise and honey mustard.
Heat butter in a frying pan and sear the pear slices on both slices until softened and lightly coloured.
Spread the pide base with honey mustard and top with cooked bacon, then the Havarti slices and seared pear.
Place in oven and cook for 5-8 minutes until the cheese is melted and the filling hot.
Sprinkle with microgreens and sandwich with the top bread layer.
YOU MIGHT LIKE THESE RECIPES